Synthophone Zone
UPDATE
Synthophone Software Update Version 4.5
The EPROM is now available to all Synthophonists for $ 50.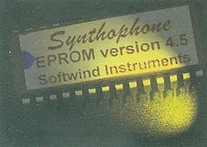 There are two major improvements and one novelty in the new version.
1. Faster attack time.
Technical measurements have been made between the physical wind pressure input
(analog wind curve) and the resulting audio signal output by a VL-70m tone generator.
| | |
| --- | --- |
| With EPROM V4.1, the resulting total delay including the response time was 14 milliseconds. | |
| | |
| EPROM V.4.5 is now 7 ms ! | |
- When playing sounds with the new chip, you'll immediately feel the difference.
- You can check it out best when double-tonguing or flutter-tonguing using percussive sounds.
- Your articulation becomes more precise, and jazz swing "do-dah" feels more fluent.
2. "Sax-like" pitch bending using lip pressure.
An in-depth study of the actual reed action has resulted in a new Pitch Bend curve that feels
more natural. As a result, bending is now very much like on a regular saxophone.

upper is V.4.1
lower curve is V.4.5
- Set your synthesizer or MIDI tone generator for pitch bend of +/-2 halfsteps.
- Now advance the symmetrical pitch bend control on your Synthophone to level 1 or 2.
- Play a wind instrument related sound and apply your natural lipping technique.
- Vibrato is now more subtle and intonation easier to control.
3. New additional function for thumb-X-press: Pitch Bend DOWN
Pitch bend down is now level 2. All other levels are shifted up by one level.
For example, Pitch Bend UP is at level 3, Aftertouch is level 4, etc...
4. There is no need to reset the instrument after inserting the new EPROM.
Your patches will be unchanged, except thumb-X-press settings starting from level 2 and up.
To order EPROM Version 4.5 contact
Synthophone Zone © 1997 - 2008